MALTA
History of Malta
Malta is a unique gem in the Mediterranean with multi cultural influences and beautiful weather.
Maltese, our national language, is a mixture of Semitic and romance languages. This is a result of foreign conquerors such as the Order of the Knights of St.John who had their base in Malta, and the British, who later ruled Malta for over 100 years up to 1964, Independence Day.
Religion Dominates our culture in events held throughout the year, such as religious processions and exhibitions which take place during lent and at Christmas time. One cannot fail but notice the many beautiful churches and chapels spread across the islands. These amount up to 365 in all, one for each day of the year!
Without much doubt, this is the most popular church in Gozo, called Madonna ta' Pinu. The most beautiful and unique feature amongst other large churches in Malta and Gozo is the fact that this church is completely surrounded by countryside, with no buildings beside it. The architecture of the church is also beautiful. It is said that many miracles have happened to those people who prayed here. The photo is taken from a hill opposite the church.
Since Malta gained the Independence in 1964, the architectural, social and economical status of the Islands has changed considerably with tourism playing an important role in the Maltese economy. In 1974, Malta became a Republic and in May 2004, Malta Joined the European Union.
The Maltese Islands are considered to be a showpiece of prehistoric monuments since several remains are evident all over the island. One cannot help but mention the Hagar Qim Temples, the Mnajdra temples, the Tarxien Temples, the Hypogeum Temples and the Ggantija Temples. These are all impressive and worth the visit!
This natural rock structure is found at the West coast of Gozo, at a place called Dwejra. This structure is very large and impressive, especially when one thinks how it can be formed naturally. It is called the azure window because it resembles a large window from which the deep blue (azure) Mediterranean Sea is seen
Malta's Climate is typical of the central Mediterranean with hot, dry and very sunny summers whilst the winters are mild and a little rainy. Temperatures vary from an average of 35% in summer to that of 10% in Winter.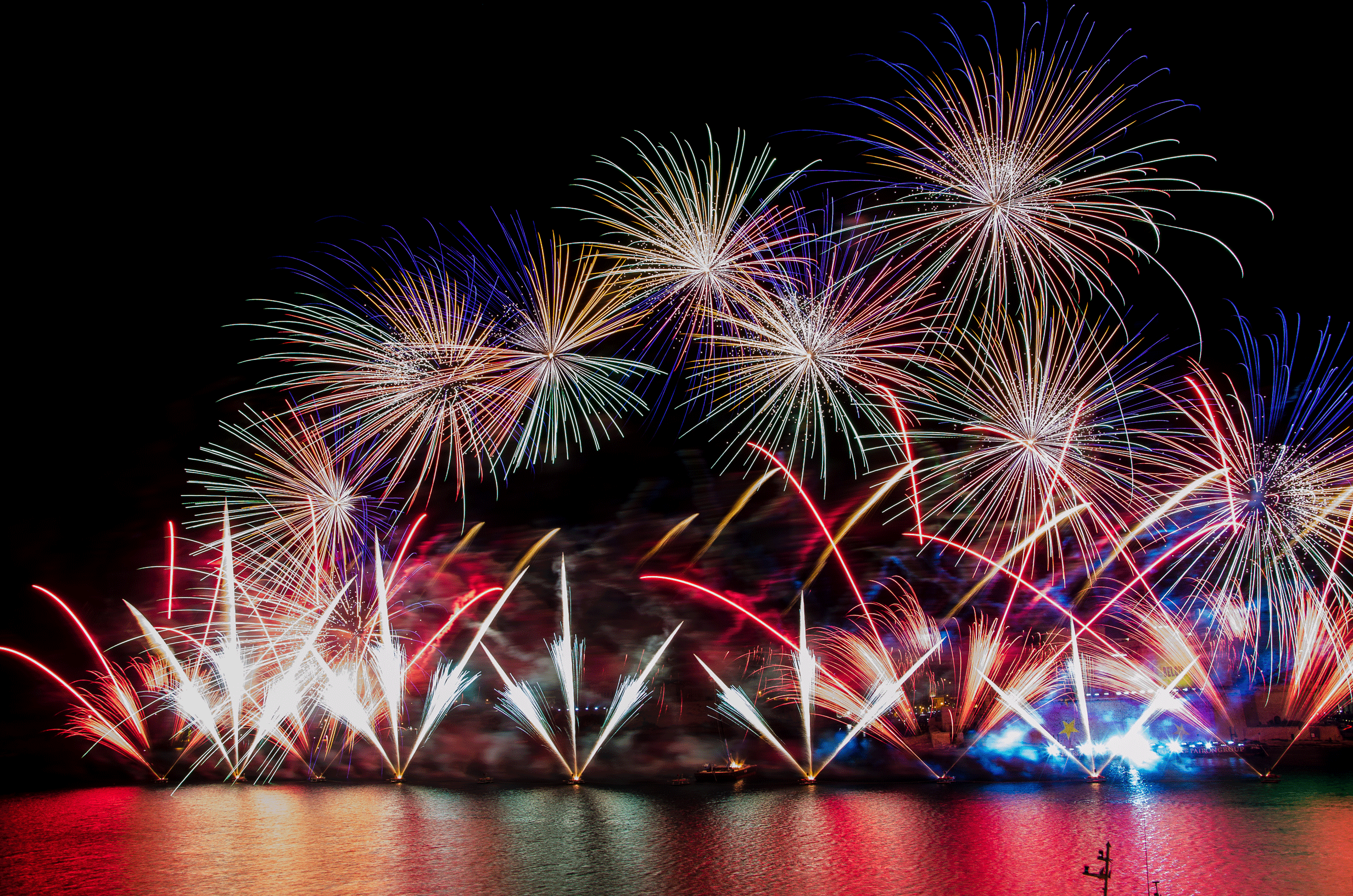 Malta's village feasts are very famous in summer, boasting of spectacular fireworks, band marches and luminous street decorations. The festa season lasts roughly from May to September and they amount up to more or less 90 festas every year.
Luckily in Malta, no place is very far from the beaches which are very much frequented especially in the summer season where temperatures are quite high. One can chose from the sandy shores of Ghadira Bay, Golden Bay, Paradise Bay and Birzebbugia's Pretty Bay or the rocky beaches such as Sliema's sea front, Zurrieq and Marsascala.
Other beaches which must be visited whilst visiting Gozo are Marsalforn, Ramla l-Hamra and Xlendi.
On the other hand a splendid place to swim in crystal blue sea whilst on a harbour view cruise is undoubtfully Comino's Blue Lagoon.
Malta Guide
Time to learn some essential information about the Island of Malta. We all do research and search on Google a destination before we actually visit. If Google sent you here, they did a good job! We will provide you all the information that you need to know before visiting.
Malta's strategic position became a vital trading post in the Mediterranean, especially since the Grand Harbour is one of the most beautiful natural harbours in the world. The grand Harbour has the capital city, Valletta, on one side and the Three Cities on the other side. Today Malta and its Islands are known best for their ideal location providing the ideal climate. Malta sunny weather is complimented by crystal clear sea water, beaches and attractions that make Malta one of the most popular destinations in the World.
When to go
Low Season (November - February)
November and December temperatures average 10°C to 18°C. January and February are coldest; northeasterly wind occasionally disrupts Gozo ferry service which makes it difficult for those that want to visit Gozo. Christmas to New Year is a mini-high season; most hotels will be busy but not fully booked.
Shoulder Months (April - June, September - October)
Warm and sunny; occasional rainfall or hot and humid wind. Sea is warmer in autumn than in spring. Being a very religious country, all religious festivities are celebrated in style. Holy Week is one of these feasts. Travellers will have the chance to enjoy the Good Friday procession which takes place in almost each and every town in Malta. Also on Easter Sunday you will have the chance to watch the procession of Risen Christ. Every year, 19 processions are organised – 14 in Malta (Birgu,Cospicua, Gżira, Mosta, Qormi in the two parishes of St. George and St. Sebastian, Rabat, Senglea, Valletta, Haz-Żebbug, Żejtun) and five in Gozo – together with another one in Fontana (Gozo) the following Sunday and preceded by a short procession at Baħrija on Easter Saturday evening.
High Seasons (June - August)
During high season beaches are busy. Daytime temperatures in July and August can reach more than 37°C. Main season for village festas (feast days) and music festivals; such as the Isle of MTV that happens around mid-July few minutes away from the capital city of Valletta.
Getting to Malta
Being an Island, there are two main ways how to get to the Island. By air and by sea.
Getting to Malta by Air
Malta is well connected to Europe and North Africa. If you're flying from elsewhere, it's best to travel to a a European hub, such as Heathrow (London), Amsterdam or Brussels, then get a direct flight to Malta (Luqa Airport).
All flights arrive and depart from Malta International Airport (MIA), which is in the centre of Malta in a town called Luqa (or Hal-Luqa). Altough the MIA is not huge it includes all the facilities that you would expect from a medium-sized airport. You will find ATMs and currency exchange, a friendly tourist office which open daily, internet access with WIFI connection, and regular, inexpensive bus connections to Malta's major towns and to the Gozo ferry. The MIA won various awards in its category and is considered as one of the best in Europe. The Maltese national airline is Air Malta, a small airline which operates from and to various countries in Europe.
Flight Tickets – There are various airlines that fly to Malta. All major Low Cost Carriers (LCC's) such as RyanAir and EasyJet operate daily flights to the Island. As already mentioned, the national airline, AirMalta also offer competitive prices with high quality service. There are other airlines that operates to Malta such as Emirates. Emirates fly between Dubai and Malta via Larnaca, with connections to and from destinations in Australia, Asia, India and other parts of the Middle East.
Getting to Malta by Sea
Malta's excellent harbour and its strategic location in the centre of the Mediterranean has led to its development as a major yachting centre. In fact Malta is also part of the Rolex Middle Sea Race and includes various Ports and Marinas. So if you have a yacht, feel free to visit Malta as it has state of the art facilities to host various number of yachts. Make sure you get yourself up to date with Malta's legislation before visiting with a yacht, you can read more about this here.
Malta also has regular ferry to and from Sicily (Pozzallo and Catania), central Italy (Civitavecchia) and northern Italy (Genoa). Ferries dock at the Sea Passenger Terminal beside the Valletta Waterfront in Floriana.
Maybe you heard that in Malta you may encounter some traffic problems. To minimise this problem the Malta Public Transport links between Sliema and Valletta have also been improved to encourage tourists to make use of this fast service while enjoying the magnificent scenery of Valletta from sea. Another ferry which is available is that between Malta and Gozo. This ferry will take less than 30 minutes and costs less than €5. Read more about visiting Gozo here.
Getting Around
Getting around in Malta is very easy, especially due to its size. However, if you read the following you may save some money (and time).
If you are visiting Malta during the warm months (September – November & March – May), then it is very easy to just walk, especially if you are going somewhere near. If you are go a bit far or else you need to go somewhere where there isn't any pedestrian facilities, it is better to take the bus.
If you are visiting during hot or cold months, then we suggest that you either take the bus or rent a car. We do not recommend to use a bicycle (as much as we hate to say this) as it is not very safe to do so. There isn't a safe infrastructure for bicycles so better not to risk (particularly if you are not familiar with the Maltese roads).
Renting a car in Malta might cost you between €15 – €25 per day. While a taxi from the Airport to Sliema might cost you €15 – €20. Public transport is quite cheap, just make sure you pick the right route as recently there were some changes in these, you can read more about this here.
Renting bikes and quad bikes is also getting popular, particularly in Summer. Again we advise you to be careful if you are going to use these as a means of transport to get around – Maltese drivers might not always be very kind, while Maltese roads are not exactly in their best state.
Things to do in Malta
​
There are various things to do in Malta, such as learning English, rock climbing, cliff diving, diving, shopping, cruises and almost everything that one can expect from a holiday destination in the centre of the Mediterranean.
​
Other Valuable Information for your holiday in Malta
​
Electricity
​
In Malta you need 230V/50hz (UK plug) to connect your gadgets. If you use different connections in your home country make sure you carry an adapter with you.
Visas
On the 21st of December 2007 Malta joined the Schengen system at the end of a gradual process of adjusting to the common visa regime provided by the Convention Implementing the Schengen Agreement. If you want to know more about obtaining your Visa (if your country is not in Schengen) kindly visit this page.
Emergency & Important Numbers
International access code 00
Country code 356
Directory enquiries 1182
Directory enquiries from Go Mobile 1187
Directory enquiries from Vodafone 1189
Emergency Number 112
Maltese Currency
In 2008 Malta adopted the Euro (€) currency. If you want to learn more about Malta's currency you can read this aritcle.
If you want to see how beautiful Malta is, read our Malta Aerial views page or else our Pictures of Malta page, we are sure that they will convince you to visit this majestic Island!
http://www.wheresmalta.com/malta/
Please reload